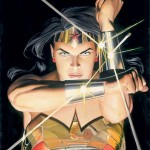 The CW Wonder Woman pilot Amazon has been "rolled into next season," according to Deadline.
The article does say that Amazon "remains a high priority" for the network, who have had some patience with projects from other development cycles before. And hey — better they take their time with things than to do it when it's not quite right.
The CW does have some interesting projects lined up including The Tomorrow People. You can read about those at our general TV site, KSiteTV.
UPDATE: THR's outlook is a bit rosier, saying the show still has a possibility for Fall 2013, midseason, or Fall 2014. TV Line is also getting more optimistic, saying that their sources tell them an updated script has yet to come in so it's still "technically a contender." But as for right now, The CW has picked their 8 pilots…