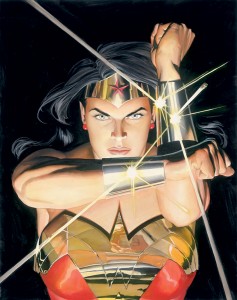 So we've seen casting breakdowns, we've heard that "Iris" is indeed "Diana," but you want some more info on The CW and Warner Bros.' proposed Wonder Woman project Amazon, right?
We've gotten a hold of a casting side that reveals that two test scenes for Diana — labeled here as "Iris" — mostly involves her and a pilot who has a mechanical failure that puts him on her island, named "Pete"… though we know that is really code for "Steve Trevor."
In the first scene — which may or may not be part of the actual pilot, should it even be filmed… Steve Trevor has landed, and his hands and feet are cuffed by a chair as Diana tries to figure out his intentions. She notices he has a weapon, and accuses him of being a terrorist, or even a diversion or harbinger of an invasion of men.
In another scene, Diana and Steve are at a diner, we assume in Man's World, and are a lot more friendly. There, Diana has her first taste of ice cream, in a very cute sequence.
If anything, this information should probably confirm that there is a Diana/Steve dynamic at the heart of this project as well as the fish-out-of-water elements we've heard of so far. It might also be safe to assume that the studio might be looking for "Steve Trevor" and chemistry with the lead actress while they're at it. Stay tuned…