While there is no new news to share about Wonder Woman returning to TV with a new series somewhere, we do have confirmation that a good Wonder Woman series will be hitting Me-TV this December!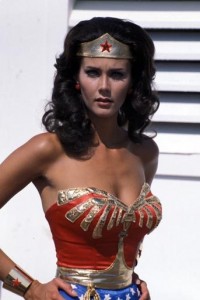 We just received a press release telling us that the classic Lynda Carter Wonder Woman series will be on Me-TV starting next month. Here's the release:
'Wonder Woman' Coming to Me-TV, December 28!

The Me-TV Network is making the holiday season for classic television fans even more wonderful time of year…with the launch of 'Wonder Woman!' The popular series starring Lynda Carter joins the Me-TV Sci-Fi Saturday Night line-up at 8 PM/7 C on Saturday, December 28.

All 60 episodes of the original 1970's TV series will be shown on Me-TV beginning with a special airing of the pilot episode at 8 PM/7 C on Friday, December 27 leading into the series premiere the following day.

'Lost in Space' will move to Saturday nights at 12 AM/11 C on Me-TV effective Saturday, December 28.

Me-TV features a wide range of programming which audiences and advertisers find comfortable and engaging. Me-TV's library includes almost 100 series from Twentieth Century Fox Television Distribution, CBS Television Distribution, NBCUniversal Television as well as many independent series owners and producers. Me-TV's line-up include some of the most beloved television programs ever produced, including:  M*A*S*H, The Brady Bunch, Perry Mason, The Mary Tyler Moore Show, The Dick Van Dyke Show, Gunsmoke, I Love Lucy, and Hawaii Five-O series.

Me-TV, memorable entertainment television, launched nationally in December 2010, is owned and operated by Me-TV National Limited Partnership. Click here for additional information about the network, current show list and complete program schedule.