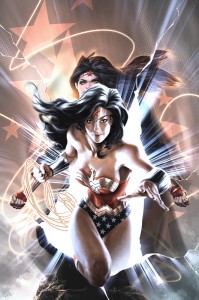 In a short new interview at TVLine, NBC president Robert Greenblatt reveals that the new TV Wonder Woman (Adrianne Palicki) will have multiple costumes.
Beware of spoilers!
There was an initial outcry about the long pants – you know, skintight pants as opposed to those little shorts [worn by Lynda Carter in the original TV series]," Greenblatt told TVLine. "But the shorts were always planned. They are actually used in the final confrontation when she beats Veronica Cale (played by Elizabeth Hurley)."
The alternative costume seen on Hollywood Blvd. was apparently always part of the plan, he said. "We haven't made any changes from what was planned," he assured. "But it's always good to hear the feedback. I'd rather have people really passionately engaged in conversation, even if they hate something, than be kind of bored."
Greenblatt is aware of some criticism the leaked pilot script got online, but he still sounds confident. "There's always critiques of everything," he said. "If we listen to all of that, we would probably never be able to get the job done. David's a great writer… and I actually think he'll bring an intelligence to [the show] that other … writers might not. I think it's going to be interesting to see it cut together." As for the finished product, what are the chances of Wonder Woman landing on our TV screens this Fall?
"I've been doing this long enough to know that nothing is a safe bet," he told TVLine. "Even with the best of intentions and the best people, you just don't know until you see it finished – and we're a few weeks away from that. But it's been getting a lot of attention. A lot."
NBC will unveil their Fall 2011 lineup in May.