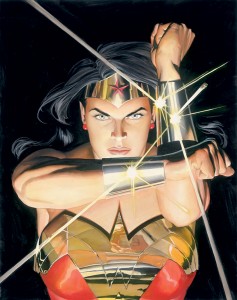 [Please keep in mind that this is just an opinion piece and no offense is intended toward anyone who worked on NBC's Wonder Woman pilot.]
As the networks announce their Fall 2011 schedules this week, it probably still can't be argued that David E. Kelley's Wonder Woman was one of the most buzzed-about pilots going into the Upfronts season. The amount of fan love for the character coupled with some controversial choices had people talking. The days spent shooting on Hollywood Boulevard brought Wonder Woman even more attention, as did the costume design which wasn't popular with everyone. (As it stood, it is said the light-blue-pants-and-boots version doesn't even appear in the pilot)
But as fast as news seemed to come that Wonder Woman would be coming to TV, it seemed that it died just as quickly, as WW didn't land a place on the NBC schedule.
I'll admit: The original draft of the pilot, which so many people tore into when news came out, wasn't that bad to me. There were even some clever moments I liked. I liked that this Diana could be someone people could identify with, and I liked that Wonder Woman was a bit of a celebrity as she would be in the real world. I thought the "Diana Themyscira" alter ego was unnecessary and added to the confusion, and I kind of cringed at some of the casting… but I was excited to see what would happen, and glad we'd get superhero TV this Fall after losing Smallville.
The initial reviews of the actual pilot worried me. The notion that Steve Trevor would lack charisma, or that the villain would be campy… not good. Wonder Woman killing? Even worse. I understand that she's a warrior but to me, Wonder Woman should be a character that young girls can all look up to while the guys watching can be enamored with her beauty. Like Superman, Wonder Woman is meant to be the best example; a role model.
This is going to bite me hard if the project is revived under the same people, but I now agree that David E. Kelley & co. might not have been the best fit. What Wonder Woman really needs is a younger writer, preferably even female, though someone along the lines of Joss Whedon would "get" it too. Look at what Julie Plec has done as one of the showrunners of The Vampire Diaries – that show's lead character, Elena, has male interests but is not defined by them. Sadly, I think this version had a Diana who WAS defined by the men around her… and when you don't see the appeal of Steve Trevor yourself… why should you get behind the show?
I'm probably getting away from my original point here, and that's what gets back to Wonder Woman. There is demand for a Wonder Woman TV show, I think. The thing is, we demand a good Wonder Woman TV show. And I say this not completely implying that what was done was bad – I've never seen it, though I'd love to – but a Wonder Woman TV show is something that I think would be more universally welcomed. I was there for the development of Smallville and although there were a few detractors at first, the finished product spoke for itself. And then there was The WB/CW's Aquaman, a pilot that a lot of people wanted to see, that sold tons on iTunes… and I bet it wouldn't have done so well without positive word of mouth and excitement.
So what now?
When David E. Kelley's Wonder Woman was shopped around, it was said that the license fee and budget would be too much for The CW. I'm not a TV producer; I don't know what things cost for sure, but I would imagine a large chunk of that fee included Kelley's salary, big effects and sequences like shutting down Hollywood Boulevard (that can't be cheap), and hiring actors and actresses that couldn't have come cheaply. Some of the names involved with Wonder Woman were movie-level names. I'd hate to imagine how much they cost to hire.
But back to The CW. Many people have pointed out that it is the network that aimed to be about "kick-ass women." Whether it's the ladies of The Vampire Diaries, Maggie Q on Nikita, or upcoming Ringer star Sarah Michelle Gellar, those are definitely women that'd fall into that category. And who is the most "kick-ass woman" of all? You've got it. Wonder Woman.
So what I'd propose is this: I'd urge Warner Bros. Television to not give up on Wonder Woman, even if this particular project didn't cut it. Smallville showed us that a network like The CW can build a following for a show of that nature, even if SV's early days were on The WB. Sure, the concept would have to be tweaked. An origin story would be nice, and something The CW audience could identify with… after all, leaving Paradise Island for Man's World has parallels to moving away to college. Get a Diana Prince in her early 20's. Change it up from Smallville and start with the costume even, but make sure the only dual identities involved are Diana Prince and Wonder Woman. Don't waste money and effects budgets on closing down major streets or flying cars. But remember what makes Wonder Woman so great – that whole "role model" issue. Girls want to be her, guys want to be with her. Bring on some writers and producers who are familiar with this kind of material that wouldn't be as expensive to hire as David E. Kelley; preferably, people who love the character. Folks like Geoff Johns, Gail Simone, or Bryan Q. Miller would fit all of those categories, and the right WW project would probably encourage some of TV and movies' best directing talents to come in. Cutting out the unneeded budget MIGHT cut down the license fee. Therefore, a network like The CW might jump at it, if they could afford it, and a good WW TV series could conceivably last years – which is a lot better than doing an expensive show that goes for less than 13 and then peters out.
Do Wonder Woman right and it'll be HUGE. But don't think that the failure of Wonder Woman on NBC is an indication that there's no market for her on TV. I think the thousands of articles about that pilot that will probably never even air is an indication TV should still think about being in the Wonder Woman business. Wonder Woman is right up there with Batman and Superman among DC's best legendary characters – and she deserves the right treatment and exposure that a good TV series would bring.