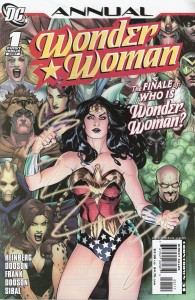 Wonder Woman might get another shot at television, and it might happen with creative people and a network that should have been behind it in the first place.
News comes in from Josef Adalian at Vulture that former Wonder Woman comic writer Allan Heinberg is developing a script for The CW with the working title Amazon. Of course, no pilot production has been greenlit or guaranteed — and certain other DC-based projects have been announced at the script progress and have never gone further. The Vulture piece insists that "no pilot production has been greenlit or even contractually guaranteed." Like Smallville, Amazon sounds like a Diana Prince/Wonder Woman origin story so it might not be as … costumey as the 2011 pilot had been.
Stay tuned for more details when and if they become available… and hopefully they will. Perhaps this site will have an excuse to still exist, after all!