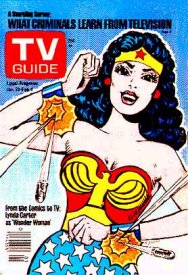 The April 11 issue of TV Guide Magazine, featuring Smallville's Tom Welling and Erica Durance, has an added bonus for fans of the new Wonder Woman – a photo of Adrianne Palicki as WW in the sidebar!
This cover is only available on newsstands; subscription issues do not have the sidebar.
There is a half-page photo of Adrianne in action as Wonder Woman (really a photo from the recent Hollywood filming) and it mentions that "in addition to fighting villains, like Elizabeth Hurley as Veronica Cale, she'll search for a way back to Paradise Island."
To the left you can see Wonder Woman's greatest TV Guide cover of the 70's, at the height of the popularity of Lynda Carter's WW series.