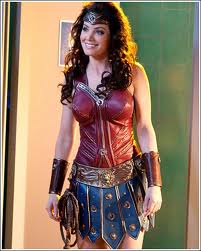 Those folks who wanted to see Smallville's Erica Durance as Wonder Woman will be in luck… sort of.
Wonder Woman isn't back on, though David E. Kelley isn't done with the character… even though most who actually saw the Wonder Woman pilot probably wishes he was through with the Amazon princess.
TVLine's Matt Mitovich reports this afternoon that former Lois Lane Erica Durance will be appearing on Kelley's NBC series, Harry's Law, as a woman who's not totally with it in the head, who retreats into the persona of Wonder Woman to go against domestic abusers. So she's not Wonder Woman; she just thinks she is.
The episode is likely the season's eleventh and the exact air date is not yet known.
We got a lot of comments when Wonder Woman was casting that Erica would be good for the role, surely prompted by the costume she wore in a Season 9 Smallville episode (to your right)… what do you think?