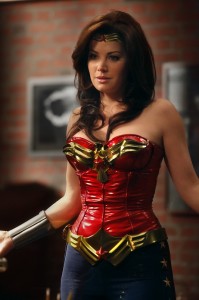 TVGuide.com and TVLine have landed first-look pictures and interviews with Erica Durance as Wonder Woman from the January 11 episode of NBC's Harry's Law.
The piece also has an interview with the former Lois Lane about playing yet another comics-inspired role.
Erica's character, Annie Bilson, isn't actually Wonder Woman, by the way. "The way that I was able to work with the character Wonder Woman in this is through the eyes of a woman who desperately needed a strong female archetype to look up to, and she had gone through such terrible things and this was her alter ego. I would challenge anybody who said that she didn't think she was Wonder Woman. This is how she found her way out," she tells Natalie Abrams in the TV Guide interview.
You can find the TV Guide interview (and a much larger look at the photo!) here. TVLine also has an interview with the same pictures, some at an even larger size; you can find that here. Also within, you can find an additional photo with Erica wearing the Wonder Woman costume design that Adrianne Palicki had in the aborted WW pilot.