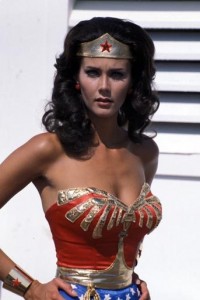 Now that the new Wonder Woman costume has been seen, E! Online's Marc Malkin caught up with the "new original" Wonder Woman, Lynda Carter, to see what she thinks of the new look.
"I think she looks fabulous," Carter told him. "It's a new look and, jeez, her body looks fantastic."
Carter also told Malkin that she hopes people will give Adrianne Palicki a chance in the role. "You know, I'm very sensitive to the fact that she will be compared," Carter said. "There's no getting around it. It is what it is. I would hope that people would cut her some slack."
You can read the full E! article here.