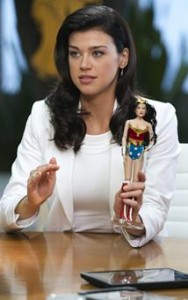 Talk about being in the right place at the right time.
Scott Carelli happened to be at Universal Studios when he was brought in to screen a TV show pilot that's in contention for Fall 2011 airing. At first, he thought it was something like House, before realizing that it was the Wonder Woman plilot.
Turns out Scott is also involved with Geekshow Entertainment, and he just recorded a podcast where he talks about what he thought of the pilot. You can listen to the show here.
What did he think?
Although he says that the pilot is better than he thought it would be, he still found it to be "really average." "It's not horrible, but it needs a lot of work, to the point that I don't know if it's salvageable to make a good show out of it," he says, although he notes that he would tune in again to see what would happen next. "It has potential," he says.
He notes that Tracie Thoms as Etta Candy is one of the best parts of the pilot, and gives her two thumbs up. Adrianne Palicki as Diana/Wonder Woman is "really good" but Carelli says she doesn't have very good material to work with. Not as nice reviews went to Justin Bruening and Elizabeth Hurley as Steve Trevor and Veronica Cale, respectively. "It was like watching a cardboard santdout," he says of Bruening. "I can't imagine why Diana would have left Themiscyra for this guy," he continues. As for Hurley's Cale, she is "over the top" and "not a character I'd want to see every week."
Other tidbits:
– There no longer seems to be a fight sequence to "All The Single Ladies," though that could change.
– Carelli says that the violence is really "over the top," and that Wonder Woman kills without blinking an eye.
– The blue pants seen in the original publicity photo are nowhere to be seen. We do, however, see the pantsuit from the Hollywood Blvd. shoot as well as the traditional Wonder Woman bikini bottoms. ""The bikini bottoms work a lot better," he says. "You actually feel like you're watching Wonder Woman at that point."
– He doesn't mention the Myndi Mayer character or the computer geeks, which makes us wonder if they were cut out entirely. He does make it sound like this is a different script than the Dec. 15 version that leaked last year.
So, again, if you want to hear what he had to say, go here. This review isn't very encouraging, though we know a lot could change between now and the time a show could premiere. If this Wonder Woman project doesn't fly, hopefully some cooler minds will prevail and actually do an origin story like Smallville that wouldn't require so much of a budget.
(And if anyone wants to show us the pilot to see what we think, WonderWomanTV can be reached at this e-mail address.)