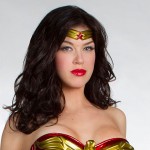 Maybe it's not between Wonder Woman and Harry's Law after all.
In a run-down of what the TV networks may do when they announce their Fall 2011 schedules next year, Vulture's Josef Adalian had this interesting speculation about something that may happen with Wonder Woman:
"We'd also like to go on record with our (potentially silly) theory about Wonder Woman: Since David E. Kelley is likely to get a pickup for Harry's Law, what if NBC were to green-light Kelley's superwoman and announce that a new show-runner was coming onboard Woman so DEK could focus on Harry's?"
You can read the entire Vulture column here. NBC will be announcing their new schedule in one week, on Monday, May 16.